News
Summer 2021
CAIRO Lab's IROS 2021 paper, "Asking the Right Questions: Facilitating Semantic Constraint Specification for Robot Skill Learning and Repair", was accepted for publication.
CAIRO Lab's RSS 2021 "Accessibility of Robot Programming and Work of the Future" Workshop paper was accepted for publication.
Spring 2021
Winter 2021
I served on a panel for the American Conference Institute's (Virtual) Conference on Global Encryption, Cloud & Cyber Export Controls
CAIRO Lab's ICRA 2021 paper, "ARC-LfD: Using Augmented Reality for Interactive Long-Term Robot Skill Maintenance via Constrained Learning from Demonstration", was accepted for publication.
Fall 2020
Three workshops organized with CAIRO Lab have been accepted at the 2021 International Conference on Human-Robot Interaction!
Summer 2020
I had the opportunity to record an episode of The TeachThought Podcast with Drew Perkins, discussing online education and cybersecurity in the time of COVID-19.
Our article "A Survey of Mental Modeling Techniques in Human-Robot Teaming" has been published by Springer, and is available here!
Spring 2020
Winter 2020
My paper, Trustworthy Human-centered Automation through Explainable AI and High-Fidelity Simulation, was accepted at the 2020 Applied Human Factors and Ergonomics Conference (AHFE 2020).
CAIRO Lab was selected to participate in the Army Strengthening Teamwork for Robust Operations in Novel Groups (STRONG) research program.
I will be speaking about our ongoing work on Explainable AI at the 2020 South American Business Forum (SABF) [Postponed]
I am excited to announce that I will be participating in the Workshop on Humans, Machines, and Experimental Social Science (HUMANESS), hosted at NYU Abu Dhabi. [Postponed]
I gave an invited talk at the 2020 Applied Machine Learning Days "AI & Trust" Track, hosted by EPFL in Lausanne, Switzerland on January 28th.
Fall 2019
Summer 2019
Spring 2019
Winter 2019
[More]
Director, Collaborative AI and Robotics Laboratory
(CAIRO Lab)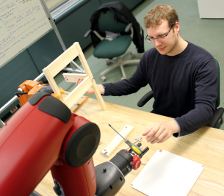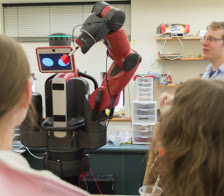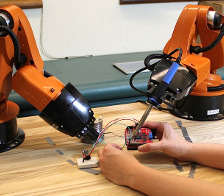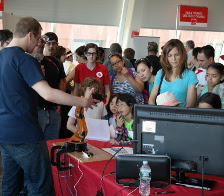 I am interested in developing algorithms to facilitate the creation of
autonomous robots
that can safely and productively
learn from
and
work with humans
. In particular, my lab's work serves to enable and facilitate
collaborative artificial intelligence
, allowing robots to make human teammates safer, more effective, and more efficient at their tasks. As such, my group's research spans many fields, including Explainable AI, Learning from Demonstration, Hierarchical Reinforcement Learning, Behavioral Modeling, Computer Vision, Natural Language Processing, Cognitive Science, and Human-Robot Interaction.
In the media
About Me
When I am not busy with research, you can typically find me skiing, hiking, playing acoustic guitar, training Brazilian Jiu-Jitsu, or playing ice hockey!
Copyright © Brad Hayes